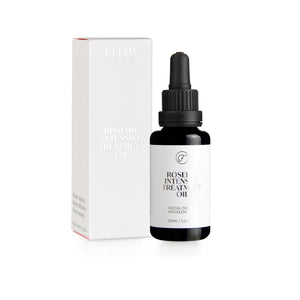 Rosehip Intensive Treatment Oil
Flow Cosmetics
Regular price €32.00 Sale
A super effective oil for repairing and treating your skin, our Rosehip Skin Repair Treatment Oil will heal a variety of skin problems.
Helpful for balancing the skin's secretion of sebum, this oil will hydrate the skin while smoothing wrinkles and fine lines. With regular use, it will also improve your skin's elasticity and fade the appearance of scars, including those caused by acne.
A great oil to use on sun rashes and sunburns, it's gentle enough to be used on all skin types, including sensitive and atopic skin.
100% organic and unscented, you'll love how quickly this oil absorbs into your skin.
Rosehip Seed Oil – Rich in antioxidants, rosehip seed oil is packed with Vitamin E and trans-retinoid acid, the natural form of Vitamin A. A friendly fatty acid for your skin, this oil will rejuvenate damaged skin tissue, making it perfect if you're looking to treat sunburns or fade scars.
Rosehip Fruit Extract – A CO2 extract of rosehip seed oil, this powerful version magnifies all of the benefits.
Arctic Blackcurrant Seed Oil – A balanced way to give your skin the Omega 6 and Omega 3 fatty acids it needs, this seed oil is anti-inflammatory and anti-aging.
BENEFITS: Absorbs quickly into skin. In scar treatment apply twice a day. Rosehip oil can help heal and face scaring, but the healing process may take several months. Rosehip oil prevents stretch marks and maintains skin's elasticity. 100% organic.
HOW TO USE
Apply after cleansing to moisturise skin. You can mix rosehip oil with your favorite moisturiser too!
30ml
VEGAN
UNSCENTED
INGREDIENTS
INCI: Rosa Canina Seed Oil*, Rosa Canina Seed Extract*, Ribes Nigrum Seed Oil*, Rosmarinus Officinalis Leaf Extract*, Helianthus Annuus Seed Oil*, Tocopherol
* Certified organic ingredient
RECYCLING
The outer box can be recycled in cardboard waste and the bottle in glass waste. The pipette is partly glass, partly plastic waste. Pipette parts can be separated.
Jaa tämä tuote!