The most popular products
Reviews
⭐⭐⭐⭐⭐⭐ Great customer service! The product was customised according to our company's wishes, fast delivery and a good looking, high-quality, Finnish product. Highly recommend!

Janina Pohja
⭐⭐⭐⭐⭐ Interaction with the company is impeccable, with a customer service spirit. 😊 Great products that are well-packaged. A pleasure to support work like this!

Aino-Maria Kasurinen
⭐⭐⭐⭐⭐ The order was exactly what we expected and the much praised wooden name lovely became a lovely Finnish handmade gift! The cake topper topped off our day<3 Delivery was longer than expected, but arrived in good time. Thank you!

Elina Laine
⭐⭐⭐⭐⭐ Good customer service, wonderful attention and organisation, even if the client makes an order in the last moment. The workmanship is also excellent and I will definitely come back to shop again!

Emma
Thank you, I picked up a lovely decoration for my parents' Diamond Wedding Cake from the post office today. I recommend, high quality work and fast delivery 💗

Minna Aapio
STUNNING NAME LABEL. We got a name label from Eco Decor for our wedding, designed according to our logo, everything went great and the label was stunning. I would highly recommend EcoDecor as part of your wedding design's planning.

Anniina ja Martti
Cake becomes unique with Eco Decor's cake topper!
Traditionally holidays are celebrated with sweet treats. Usually table is decorated with a variety of small appetizers, but the centerpiece is cake, and we may embellish it with our amazing decorations!
view more styles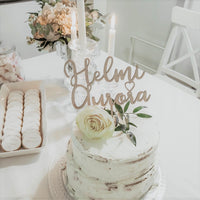 Gifts for employees and customers
Piristä työntekijöitä tai asiakkaitasi personoiduilla ja kotimaisilla lahjoilla.
Meillä on hyviä kokemuksia onnistuneesta palvelusta myös yrityslahjojen parissa. Tilaa vaivatta meiltä esimerkiksi kortit, avaimenperät, muistikirjat tai kuusenkoristeet yrityksen nimellä tai logolla varustettuna.
Laita viestiä, niin toteutetaan lahjaideasi!
READ MORE