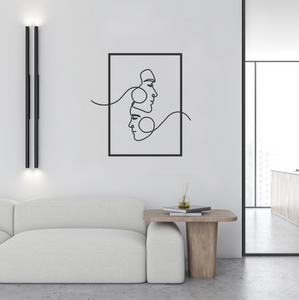 FALLEN IN LOVE - wooden wall decoration
Eco Decor Oy
Regular price €99.00 €99.00 Sale
Fallen In Love wood wall decoration is available in smaller size (frame 35 x 49 cm).
The bigger one (frame 35 x 49 cm) can be ordered here.
Fallen In Love illustrates love.
In this picture we can notice 2 faces that are intertwined with one another. It will be a good Wedding gift or present for an engaged couple because this illustration keeps a memory of a happy day.
Natural wood, scandinavian design and smooth lines are perfectly combined in one work. This wooden work brings warmth, peace and harmony into your house.
It looks harmoniously either on its own or in combination with another paintings and pictures
Have a look at our wood wall decor: Wood wall decor.
ADDITIONAL INFORMATION
Material: Finnish birch plywood, 4 mm.
Total size:
49 x 49 cm
Frame size:
35 x 49 cm
The decoration comes with screws with magnetic fixing, and a hole to make it easy to get the screws in the right place.
DELIVERY
Orders are usually delivered by post as a parcel (6,90€). It takes 5-14 days to produce the picture. We will try to send them as soon as possible. You will be notified about the status of the shipment to your e-mail address. If you wish, you can pick up your order from or office in Helsinki (0€). Read more about Eco Decor's delivery terms here.
Orders over €150 will be delivered free of charge.
PAYMENT METHOD
You can pay by using any of the payment options offered by Paytrail below. Paytrail is a secure payment method for you.
Jaa tämä tuote!