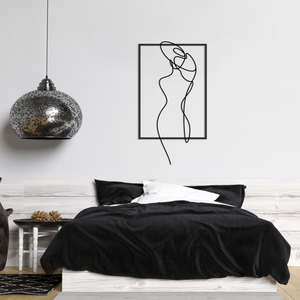 Wooden wall ART - BEAUTY
Eco Decor Oy
Regular price €99.00 €99.00 Sale
Beauty is a wooden picture that shows an elegant woman in a large bowler hat. This panel is created in a single-line technique so it is suitable for many interiors.
Art panel is made of wood, created with elegant, unique patterns and lines that cross the boundaries of life. Natural wood, scandinavian design and smoothness of lines combine in one work and bring warmth, harmony and calm into the interior. The Art panel also works an excellent gift to keep happy moments in memory.
The panel looks harmoniously either on its own or in combination with another paintings and pictures.
Have a look at our wooden ART panels selection: wooden ART panels.
Material: Finnish birch plywood, 4 mm
Common size:
1. 50 x 90 cm
2. 35 x 62
Frame size:
1. 50 x 70 cm
2. 35 x 49 cm
Panel comes with screws with magnetic fasteners, and a hole that makes it easy to get the screws in the right places.
HOW TO ORDER
1. Choose the colour
2. Press "Add to cart". (Other products can also be added to your cart)
3. Press "Proceed to order" to complete your order.
DELIVERY Orders are usually delivered by post as a parcel (6,90€). Product takes 7-10 days to be ready. We try to send ART panel as soon as possible. You will be notified of the status of the shipment by email. You may also pick up your order from our office in Helsinki (0€)
Orders over €150 will be delivered for free.
PAYMENT
You can pay for your products using any of the payment options offered by Paytrail. Paytrail is a secure payment method for you.
Our ART panels blend the warmth and lightness of wood with the sophistication and beauty of the image.
Jaa tämä tuote!