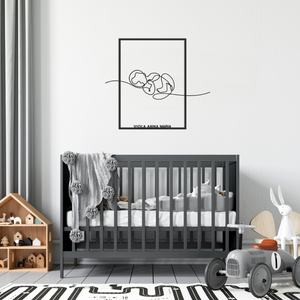 The Life Line - Finnish wooden ART boards
Eco Decor Oy
Regular price €139.00 €139.00 Sale
Save the happy moment of your child's birth in a tender and gentle painting - The Life Line.
Each panel is made personally, with the child's name, date of birth, time, height and weight. Save the memory of your first meeting with your child in this unique and beautiful ART panel.
These ART panels are completely different
from usual paintings and posters.
The image is created using the single line technique, which is popular around the world. The line on the painting creates an image of a newborn baby, extending outside the frames, bringing a vivid effect to the painting.
This ART panel is made in a scandinavian style, which is perfect for a children's room or living room. It looks good on its own as well as in combination with other paintings and pictures.
Material: Finnish birch plywood, 4 mm
Total size: 70 x 70 cm
HOW TO ORDER
1. Choose the colour
2. Press "Add to cart". (Other products can also be added to your cart)
3. Press "Proceed to order" to complete your order.
DELIVERY
Orders are usually delivered by post as a parcel (6,90€). Product takes 5- 14 days to be ready. Please ask about the current delivery time when you are making an order. We try to send ART boards as soon as possible. You will be notified of the status of the shipment by email. You may also pick up your order from our office in Helsinki (0€).
Orders over €150 will be delivered for free.
PAYMENT
You can pay for your products using any of the payment options offered by Paytrail. Paytrail is a secure payment method for you.
Our wooden works blend the warmth and lightness of wood with the sophistication and beauty of the image.
Jaa tämä tuote!