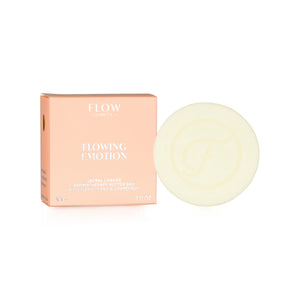 Flowing emotion - body soap
Flow Cosmetics
Regular price €26.00 €26.00 Sale
Soap
A flower of flowers, exuding joie de vivre and passion! Aromatherapeutic, skin caring soap for the whole body and for hands as well. Effectively treats different skin problems, both dry and oily. Especially good for acne, irritated and inflamed skin. The fragrance relieves irritation, tension and mood swings.
Product affirmation: 'I Love and Enjoy My Body.'
Description
Aromatherapeutic salt soap for body, hair and mind. The fragrant Himalayan salt soap with exotic Ylang ylang −the flower of flowers−, contains arctic sea buckthorn seed oil, which is known for its skin-restoring effects. The mineral-rich salt, vitamins from the sea buckthorn and synergistic blend of essential oils are specifically designed to treat irritated, acne prone and inflamed skin. This soap is good for both dry and oily skin, the therapeutic effect is balancing for both skin types.)
Did you know?
According to chakra doctrine, our physical body is surrounded by an energy field, or aura, which houses the seven energy centers, or chakras, through which we receive life energy. The sacral chakra is the second energy center of the body, located below the navel in the lower abdomen. The sacral chakra is the body's center of emotions and it is strongly connected with sexuality and fantasies. It encourages one to go with the flow and enjoy life. Orange colour is associated with the sacral chakra. FLOWING EMOTION products are suitable for opening and balancing the sacral chakra. This scent relaxes and encourages you enjoy life and to take chances. The Flowing Emotion product series also includes a lotion, perfume oil and an essential oil blend. You can find all of these in the Chakra Products section.
Additional information:
120g pH 8-9
VEGAN
Plastic-free packaging.
Packed in FSC-certified carton
Colour: Orange
Aroma: floral, subtly exotic
How to use as a shampoo: lather generously directly into wet hair, rinse with warm water. Repeat wash as necessary. Avoid getting the soap in your eyes. Use a conditioner after washing if necessary. Store soap on a surface that allows water to escape. Chunk soap is hygienic and remains solid, and does not break down when allowed to dry between uses.
Ingredients
The antiseptic pink Himalayan salt is the purest salt found on our planet. It is rich in minerals that are absorbed into the skin and help repair skin damage and problems such as inflammation, rashes, itching, acne and atopic skin. Salt also helps to balance the pH of the skin. Arctic sea buckthorn seed oil contains a plenty of important omega fatty acids such as omega 3, 6, 7 and 9, vitamin E and carotenoids known as vitamin A precursors. Sea buckthorn oil protects the skin with antioxidants and strengthens the skin's protective barrier. In addition, sea buckthorn soothes various skin irritations, dry skin and oily skin. A synergistic blend of organic ylang ylang, grapefruit and sandalwood essential oils known for their skin rehabilitating and balancing properties. These oils are used to treat dry skin, oily skin, acne prone skin and aging skin. Glycerin is a super moisturizing ingredient that occurs naturally during saponification and has not been specifically added to the product. The spiritual impact of the fragrance: A sensual, energizing combination of essential oils encourages you to enjoy life, creativity, romance and makes everyday chores feel light.
INCI: Sodium Cocoate*, Sodium Shea Butterate*, Glycerin*, Aqua**, Salt*, Simmondsia Chinensis Seed Oil*, Hippophae Rhamnoides Seed Oil*, Cananga Odorata Flower Oil*, Citrus Paradisi M. Peel Oil Expressed*, Vanilla Planifolia Seed Extract*, Santalum Spicata Wood Oil*, Rosmarinus Officinalis Leaf Extract*, Helianthus Annuus Seed Oil*, Beta-Carotene**, Tocopherol**, Brassica Napus Seed Oil**, Zea Mays Oil**, Ci77491**, Benzyl Benzoate***, Benzyl Salicylate***, Limonene***, Linalool*** * Wild grown or certified organic ingredient ** Ecocert or COSMOS approved ingredient *** From natural essential oil
DELIVERY
The total price of packaging and delivery is 6,90€. You can also order other products for the same delivery fee. Check out our wide range of products: FINNISH NATURAL COSMETICS.
Jaa tämä tuote!