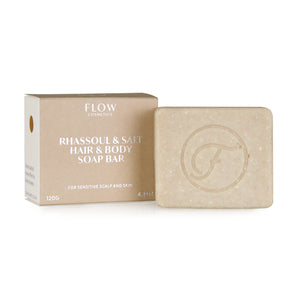 RHASSOUL & SALT HAIR AND BODY SOAP
Flow Cosmetics
Regular price €16.00 Sale
Enjoy a rich, creamy lather without irritating or stripping the natural oils from your skin
Specially formulated for sensitive and problematic skin, our Rhassoul Clay & Salt soap works wonders on atopic eczema, psoriasis, itchy skin, and dandruff.
This gentle soap can also be used on your face thanks to its mild formula. It's completely unscented and fragrance free, making it a great choice for anyone suffering from oversensitivity caused by scented products.
Rhassoul Clay, which is also known as Moroccan lava clay, is loaded with soothing minerals, allowing it to deep clean and remove products and excessive oil from your hair and face. A great choice for your entire body, this soap bar also contains Himalayan pink rock salt to moisture and nurture your skin naturally.
The soap is unscented so it is a good option if you have allergies or you just don't like scented products. This mild soap is also excellent for children.
Try our Rhassoul clay soap for:
- Atopic eczema
- Psoriasis
- Dandruff
- Rosecea
- Seborrheic eczema

Why Flow Rhassoul Clay soap?

- Pure plant oil soap without sulphates and harsh detergents
- Environmentally friendly
- A little goes a long way
- No plastic waste
HOW TO USE
Massage into wet hair until a good lather forms. Rinse quickly a little bit and repeat lathering. There needs to be plenty of lather to get the best result. Use warm water because it activates the soap. Remember to lather the hair strands and tips too, not only the scalp. When there is enough lather, massage your scalp and rinse with warm water. Finish with Flow hair rinse, homemade ACV-rinse or your choice of conditioner.
Tip! It's best to use a draining soap dish. If you leave the soap sitting in water, it will get soft and melt.
ADDITIONAL INFORMATION
120g
pH 8,5-9,5
VEGAN
PLASTIC-FREE PACKAGE
INGREDIENTS:
INCI: SODIUM COCOATE*, SODIUM SHEA BUTTERATE*, GLYCERIN*, AQUA**, SODIUM CASTORATE*, MOROCCAN LAVA CLAY**, SALT**, ROSMARINUS OFFICINALIS LEAF EXTRACT*, HELIANTHUS ANNUUS SEED OIL*
* Wild grown or certified organic ingredient
** Ecocert or COSMOS approved ingredient
DID YOU KNOW?
Rhassoul clay is known for its ability to treat different skin problems. This clay, also widely used in spa treatments, is rich in minerals and it's deep cleansing. In addition to the clay, this soap contains also mineral rich Himalayan salt, which combined with Rhassoul clay could be the perfect mix for treating skin and scalp problems.
Handmade from high quality organic plant oils, our soaps are cold processed, so they are packed with natural glycerin, a luxurious way to moisturize your skin and hair. Because of the cold process we use, we are also able to use loads of natural active ingredients like herbs, berries, clays and salts. In typical industrial soap-making practices, this isn't possible. Each of our soaps is sulfate-free and packed with zero plastic.
Jaa tämä tuote!